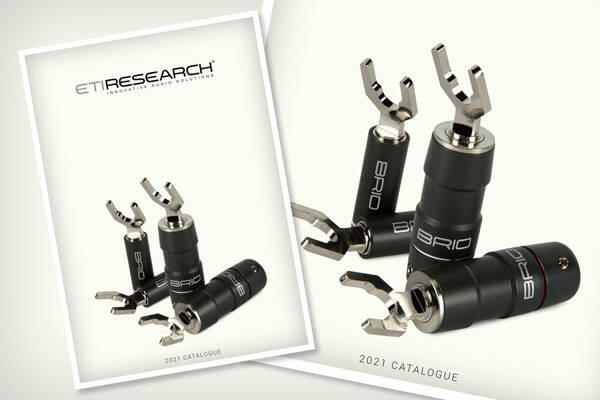 CATALOGUE
ETI Research 2021 Catalogue is out now for download in PDF format. The new 2021 Catalogue provides product information for all ETI Research products including Brio, Kryo, Link, Legato and more.
Audio Art Cable moves to ETI Research for their high-end Cables
Audio Art Cable has been making high-end audio cables in the USA since 2005. We are proud to announce that Audio Art Cable are now using ETI Research connectors on many of their high-end audio cables. Audio Art Cable are utilizing everything from our Copper Link RCA connectors through to the Kryo XLR connectors on their Statement interconnect cable. ETI Research Kryo connectors also make an appearance on their speaker cable range, as well as our Link Banana.
PureCable using ETI Research Connectors
Purecable from the Netherlands, is using a variety of ETI Research connectors across their range of high-end audio cables. Yo will find ETI Research's very best connectors used on their AC cables, terminated with ETI Research Legato connectors, and the ETI Research Kryo connectors used on stereo interconnects, and the Kryo Spade and Banana connectors used on their speaker cables.
Galibier Design and
ETI Research
Galibier Design from the USA have a series of new RCA cables and AC power cables using the ETI Research Kryo RCA connectors and the ETI Research Legato AC connectors.
"Prototyping with the ETI Legato connectors raised the ceiling of our power cable design, and the Wind River cable was born."
OePhi Cables wins Editor's Choice Award using ETI Research Connectors
OePhi Cables out of Denmark have just received a great review from Ear (Hi-Fi Music Gear) website for their range of cables including a stereo RCA interconnect, and a coaxial digital audio cable, both of which feature ETI Research Kryo Connectors. The OePhi Cables won the Editor's Choice Award and we are proud to be a part of the solution OePhi offers.
"OePhi is the creation of a man with the technical skills to transform a theoretically excellent idea into a suite of extraordinarily capable products. If you already like the system that you have chosen I suggest that you might be as staggered as I was by the addition of these hand-built cables."
IKIGAI Cables using
ETI Research
Kryo Connectors
IKIGAI Cables most successful series the Sugure is now using the ETI Research KRYO connectors. We are very pleased that this dedicated High End Cable manufacturer from The Netherlands has chosen to change over to best selling line of connectors the Kryo and the Silver LINK.
We urge you to check the quality and construction details of IKIGAI Audio.